In the past decade, with the exponential rise of health care costs, a phenomenon known as International Medical Tourism (IMT) has become a fast-growing industry in which patients travel to foreign countries to undergo medical procedures and treatment, usually at a far lower cost than they can find in the United States.  This evolution of IMT has led to the following concerns: 1) whether the care provided by physicians not trained in the United States actually meet U.S. standards of care, 2) who should bear the responsibility for complications that may occur after a patient returns to the United States, and 3) how that required subsequent treatment for the complication might be paid for.  Warnings are regularly given about language and cultural barriers inherent to travel abroad, as well as significant concerns for exposure to endemic rare antibiotic-resistant organisms which may lead to infections difficult to treat upon returning home.  In general, follow-up care is difficult to negotiate and remains a major flaw with IMT.  While many IMT patients admit that U.S. facilities provide superior care, "cost savings" is the primary incentive driving them overseas.
DOMESTIC MEDICAL TOURISM (DMT) TREND
Fast forward a few years after IMT has become headline news… and a new trend has gained traction which alleviates much of the worry regarding standards of care, language and cultural barriers, post-operative follow-up responsibility and legal recourse should anything go seriously wrong.  Domestic Medical Tourism (DMT) allows patients to remain within the United States and find the same cost savings that they, otherwise, would have had to travel across entire oceans to realize.  Now patients can travel to see a physician within the continental U.S. and save thousands of dollars even with the addition of travel, lodging and sometimes even the cost of a travel companion.  Many employers are now beginning to see the value in DMT. For certain conditions, they are giving their employees the option to seek their healthcare outside of their existing traditional health insurance plan and travel for their surgical care in order to save on healthcare costs and in return receive highly specialized and efficient care.  Some very large companies in the U.S. including Walmart, Boeing and Lowe's are giving employees the option of traveling to get medical care from facilities considered to be the best in the nation, deemed as "Centers of Excellence."  Unfortunately, the problem of loss of follow-up care still exists with DMT.  Nonetheless, the growth of DMT has been fueled by several factors:
The role of the insurer or self-insured employer in directing care
The development of "Centers of Excellence", which provide lower costs and better outcomes for patients
The desire to reduce health care costs
The shift to a "value-based" reimbursement system
As the cost of medical care has risen, new ideas and forces are brought to bear in the delivery of health care.  DMT facilities and self-insured employers or third-party payers have worked together to agree upon a standard bundled payment for certain procedures (such as hip and knee replacements or simple spine surgeries) that is much less expensive than the patients' local care options.  Even accounting for the involved travel, lodging, forgiveness of copay, and patient stipend, this bundled payment arrangement with DMT still represents a significant cost savings opportunity for self-funded individuals, self-insured employers and third party insurance plans.  Again the only problem is…loss of follow-up care.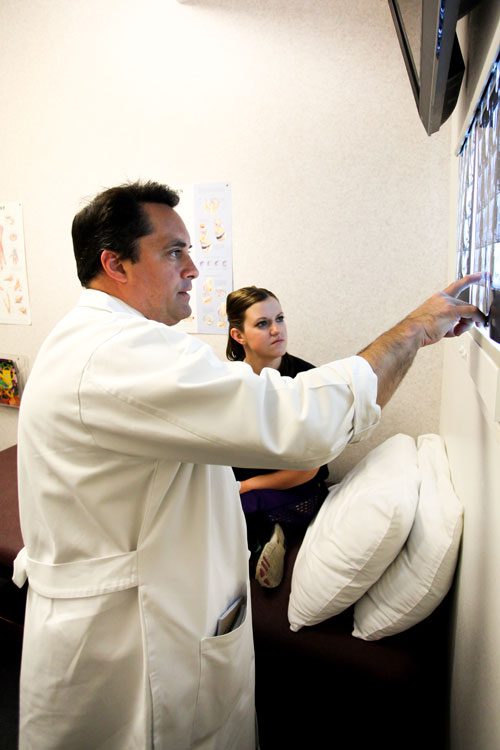 Improving the concept toward
Community Based Domestic Medical Tourism
Now today, Dr. Randy Delcore has taken these concepts even further with the advent of Community Based Domestic Medical Tourism (CBDMT).  The primary reason for shopping out of state is the desire to obtain an increased standard of care and decreased costs.  Now with Cedar Orthopaedic Surgery Specialty Clinic and Cedar Orthopaedic Surgery Center, you have a home base alternative to traveling outside your community and state.  As a Center of Excellence, we can work with you, your employer (large and small) and/or your insurance company to provide the highest standard of care for your bundled clinical and surgical needs.  Our clinic and surgery center provides an exceptional level of care and professionalism, with a personal and customized approach to your needs.  With on-site X-Rays, MRI and physical therapy services, you will experience the full spectrum of individualized and personalized care.  Cedar Orthopaedic Surgery Center has established an excellent track record for outpatient total joint replacement performing outpatient total knee replacements since 2004 and outpatient total hip replacements since 2005.  Outpatient spine procedures, such as lumbar microdiscectomies and lumbar decompressions, have been performed since 2008.  We are proud to enjoy unanimously high patient satisfaction scores and continue to boast a 0% infection rate.  We are able to bundle prices to include all of your surgical and aftercare needs.  We enjoy established long-standing relationships with home health agencies and aftercare facilities should you require extra assistance after your operation.  With CBDMT, the problem of follow-up care has naturally been solved.  Continuity of care is maintained with your own preferred local orthopaedic surgeon.  Really, how can one put a price on maintaining follow-up care with your own surgeon.
Upfront Pricing for Domestic Medical Tourism
Look on this site for our offered services and prices, and allow yourself to advocate for yourself and/or your employees on how to spend your medical dollar.  Hospitals are allowed to charge you for every single item at an incredible, and highly profitable, markup.  We pride ourselves in providing outstanding care without hidden costs, fees or unfair markups.  We will discuss your medical/surgical options and explore the best choice for you.  You deserve the best care and consideration for your time and money.  Our 360 degree approach to your clinical and surgical care means that your needs will be met whether you are from Cedar City, local long distance within the state of Utah, or out of state.  Let Dr. Randy Delcore and his team at Cedar Orthopaedic Surgery Specialty Clinic and Cedar Orthopaedic Surgery Center show you what personal, experienced and cost-conscious care really means. With our pricing engine, you can find true price transparency and make an informed decision regarding your medical needs.  If you travel from a distance, we are happy to lend you our local knowledge and assist with your travel plans and itinerary (which often includes an offering to dine with your surgeon upon arrival).