The Biomet Vanguard Total Knee system has state-of-the-art design features to produce one of the most comprehensive outpatient total knee replacement systems currently available.
Knee implants are designed with a groove, or track, that the kneecap rides in as the leg straightens and bends.
The Vanguard Knee's forgiving track allows the knee to achieve motion without sacrificing additional healthy bone during surgery.
The Vanguard Total Knee is engineered to accommodate up to 145 degrees of flexion.
The Vanguard Outpatient Total Knee Replacement
The Vanguard Total Knee system offers 90 different combinations for a more personalized fit to unique anatomy.  The system:
Is engineered for each femoral implant to fit with any size tibial implant;
Delivers 90 different size combinations for a more personalized fit.
Polyethylene is used to replace the damaged cartilage at the top of the tibia.  The polyethylene acts to cushion the joint as the knee moves and bears weight, which makes for one of the best features in our outpatient total knee replacement procedure.
The Vanguard Total Knee system's polyethylene components result from a direct-compression molding manufacturing process that has been shown to produce more durable implant components when compared to other, more conventional manufacturing methods.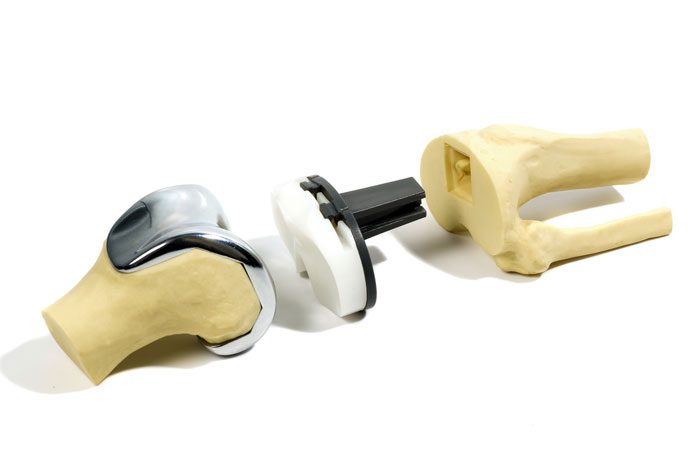 Our Total Knee Replacement Outpatient Procedure
Dr. Randy Delcore, has found that candidates who are generally healthy, well-informed, and motivated do extremely well with outpatient total joint procedures.  We've developed great relationships with home health services, rehabilitation facilities, physical therapy, and lab services to assist in taking care of our patients postoperatively.  Dr. Delcore is proud to be part of the evolving trend toward transitioning healthy orthopaedic patients from the "sick environment" of a hospital inpatient stay to one of self-motivated "healthy mobility" within their own home.  His experience, through 25 years of practice, has given him great insight into which patients fit the criteria for outpatient total knee replacement – and what those expected outcomes could be.  Progressive anesthesia techniques including preoperative pain management, minimization of narcotics intraoperatively, intraoperative pericapsular local anesthetic blocks placed by the surgeon and the use of non-narcotic medications postoperatively truly leads to happy patients without pain or nausea and ready to discharge within a few hours.  It is amazing to see our patients up and moving shortly after their surgery and then to hear their success stories as we follow them through the recovery/healing process.  Everyone in our center takes great pride in knowing that we are performing outstanding surgical procedures such as our total knee replacement outpatient procedure with seamless transition to after-care. This has resulted in great outcomes and fewer complications with high patient satisfaction at a value that is, and always will be, unmatched by hospitals.