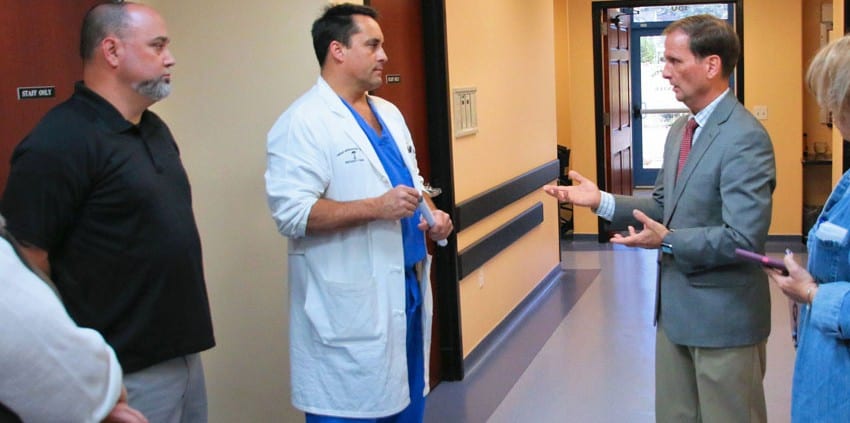 Congressman Chris Stewart Visits Cedar Orthopaedic Surgery Center
Dr. Randy Delcore, founder and medical director of Cedar Orthopaedic Surgery Center (COSC) located in Cedar City, Utah, welcomed US Representative Chris Stewart (UT-02) to his facility on November 12.
Delcore talked with Rep. Stewart about a serious challenge the surgery center is facing in its rural environment of southern Utah due to the consolidated delivery and insurance market in which they operate. The nature of the market in which they operate has made it hard for COSC to obtain contracts to perform and be reimbursed for surgical services.
Delcore explained to Rep. Stewart that this situation prevents many residents in the area from enjoying a choice of physicians and the opportunity to have high-quality surgery performed for much more reasonable prices.
As Rep. Stewart visited with Delcore, Terri Hartley, who had just been elected to the Cedar City Council the week before, was also present to listen with interest to Delcore's description of his surgery center's challenges. Two local reporters were also present.
The caption for the photo reads:
Daron Pealock, administrator and director of nursing at Cedar Orthopaedic Surgery Center, and Dr. Randy Delcore meeting with Representative Chris Stewart. Photo by Corey Baumgartner from Iron County Today.
This article appeared in the Ambulatory Surgery Center Association's weekly online "Government Affairs Update."
https://delcore.org/wp-content/uploads/2016/01/L-to-R-Daron-Pealock-and-Dr.jpg
803
850
Doctor Delcore
https://delcore.org/wp-content/uploads/2019/06/logo-website-2.jpg
Doctor Delcore
2016-01-19 18:37:26
2018-09-07 11:05:02
Congressman Chris Stewart Visits Cedar Orthopaedic Surgery Center